Established in the United States in 1951, The Nature Conservancy (TNC) is one of the world's most prominent environmental nonprofits. The organization, which is impacting conservation in 81countries, is supported by over 1 million members and boasts a diverse staff including more than 400 scientists.
With more frequent and destructive hurricanes, storms and floods chronically upending our lives; and extreme heat waves, droughts, rising sea levels and wildfires threatening cities, global food and water supplies, and critical areas of biodiversity and wildlife habitat, the urgency to mitigate the harshest consequences of climate change and limit the rise of average global temperatures is clear. We have years, not decades, to avoid the worst impacts of climate change. Recognizing that immediate and extraordinary actions must be taken to address the serious threat of climate change, TNC is prioritizing measures in the following four areas.
Clean Energy Policies and the Renewable Energy Transition
To avoid the worst impacts of climate change, the world needs to slash greenhouse gas emissions in half in less than 8 years and reach net-zero emissions by 2050. Given that about three-quarters of global greenhouse gas emissions come from energy use, a rapid, massive shift to clean energy is urgently needed. The U.S. is committed to deploying 750-1,000 gigawatts of renewable power by 2030. India is committed to deploying 500 gigawatts. Europe is committed to over 1,200 gigawatts. These goals are unachievable if we do not dramatically speed up the rate at which renewable energy — particularly wind and solar energy — and related transmission services are sited and deployed. That can only be realized if states, countries, and regions find space for renewable energy that does not conflict with environmental and community values. In the U.S., the passage of the Infrastructure Investment and Jobs Act made available $70 billion to accelerate clean energy deployment as part of the country's Paris Agreement commitments.
The global buildout to meet these goals will require a lot of land, raising the potential for conflicts due to community, environmental, and other concerns. TNC is working to address these conflicts by identifying areas where projects can be developed with minimal impacts on nature and greater benefits for people. There are more than enough already developed areas—such as former mine lands, brownfields, and marginal agricultural lands—where clean energy projects can make lands productive again. Using these lands supports local economic development, provides new revenue for farmers and other landowners, and cuts costs and permitting times.
What started as a tool to guide wind energy siting in Oklahoma and Kansas is now an online spatial planning map, known as Site Right, that offers important insights to companies and communities planning and implementing renewable energy projects in nearly 20 states in the U.S. It's widely used by industry leaders to assess potential environmental risks for wind and solar projects and support community engagement and better project siting. TNC now plans to replicate this approach nationwide – and even globally in places like India – to encourage ambitious state-level climate action.
To ensure decision-makers worldwide are acting in the best interest of the environment, TNC is regularly advocating for policies that promote a low-carbon future. At the national level and in states, TNC is advancing policies and supporting investments to drive a rapid transition to zero carbon technologies.
TNC is also in favor of policies that promote clean energy research and innovation, modernization of the power sector, and electrification of the transportation sector, and reduced emissions from industrial facilities. One such opportunity to do this is to implement an economy-wide carbon price.
The bipartisan Market Choice Act, reintroduced into Congress by Brian Fitzpatrick (R-Pa) and Salud Carbajal (D-Ca) in 2021, is a pricing bill that would impose a $35 per ton price on carbon and, in turn, mitigate the disproportionate impacts of climate change on vulnerable communities. TNC's Director of Climate and Energy Policy for North America, Jason Albritton said in May 2021, "This legislation could provide a key component of the climate solution set while also offering a way to fund essential infrastructure improvements… The Market Choice Act creates opportunities to invest in better choices, better technologies, and better communities."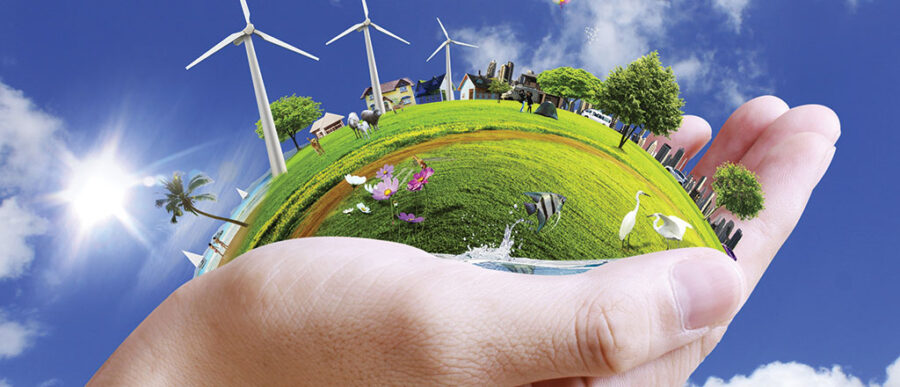 Natural Climate Solutions
Widespread societal changes are paramount to reducing global emissions, but that on its own won't be enough to limit the increase of average global temperatures to less than 2°C above pre-industrial levels, which is the target goal of the Paris Agreement.
Shifting away from fossil fuels is critical, but we must also enhance nature's remarkable ability to capture carbon. Protecting, restoring, and improving management of natural and working lands and waters like forests, farms, grasslands and coastal wetlands will not only mitigate greenhouse gas emissions, but also help protect biodiversity, restore freshwater sources, and provide sustainable livelihoods for communities.
In 2017 TNC scientists completed a study that suggested nature, on its own, could abate approximately 11 gigatons of emissions each year, which equates to about one-third of the total mitigation requirements to avoid a potential climate catastrophe. The study also highlighted the importance of forest management and protection to help sustain naturally occurring emissions reductions.
More recent technological innovations have set out to help capture carbon emissions and combat climate change. While this is a positive step, Peter Ellis, TNC's Global Director of Natural Climate Solutions Science, believes that an effective approach to reducing emissions must involve thoroughly researched natural climate solution strategies.
"We need more of this kind of work: bringing natural and technological innovations forward to help investors, practitioners and decision-makers identify the what, where, when, and how of working with nature—together—to face civilization's greatest challenge," Ellis wrote in a March 2021 Perspectives post for TNC. "The point is that it would be impossible—and frankly arrogant—to think that we humans could do it alone without nature. We need to approach the problem with the right level of humility and respect for nature's incredible power and enlist all of its amazing innovations in the challenge ahead of us."
3. Climate Adaptation
Rising seas, stronger storms, catastrophic wildfires, devastating heat waves, record floods and droughts— the impacts of climate change are already endangering people and ecosystems worldwide. Climate models, along with evidence from aircraft and satellites, suggest that extreme weather events have occurred with more frequency and intensity as global temperatures continue to rise. Storms, flooding, and erosion, in particular, are concerning for the nearly 3.5 billion people who reside near coasts.
However, there are nature-based ways to support people living in these areas. Protecting and restoring reefs, mangroves, dunes, marshes, and other coastal systems can blunt the impact of storms, greatly reducing risks to people and businesses. Mangroves not only buffer communities from storms and erosion; they also provide food, wood and fish habitat. In a recent study conducted in conjunction with the insurance industry, TNC found that wetlands in a dozen states saved coastal communities $625 million in potential economic losses from the impact of Hurricane Sandy.
Climate stressors fuel food and water insecurity as well. Unpredictable rainfall patterns, longer droughts and heat waves are impairing agricultural yields and making it difficult for many communities to secure enough food and water. TNC collaborates with farmers, ranchers and herders to adapt to these changes, working with diverse partners to strengthen capacity to adopt farming methods that save water and improve soil health while increasing yields. Similarly, we work with communities around the world to safeguard their water supplies by improving land management practices. This approach of cocreating equitable nature-based adaptation solutions, reflects TNC's commitment to fostering inclusive decision-making that respects the knowledge and culture of the communities they work with.
4. Productive Conversations
Beyond these three measures, TNC is inspiring productive conversations concerning climate change to develop a stronger common ground among policymakers and the general public. A recent byline coauthored by Darci Vetter, TNC's Global Head of Policy and Government Relations, and Leonardo Lacerda, TNC's Global Managing Director for Climate Change, reflected on the potential of the newly passed Inflation Reduction Act in the U.S. to provide a roadmap for other countries to start to take similar policy actions to catalyze climate transitions.
Darci and Leonardo note that when the U.S. put forward a more ambitious emissions reductions commitment in 2021, trust in American leadership started to come back, and soon Canada, Japan, and China put forward enhanced targets of their own in short order. Additionally, implementation of the IRA provides an opportunity to learn, and share what the U.S. discovers with other nations. Transparency of how costs and benefits transcend geographies will be critical in delivering a just, equitable, and climate-neutral future for all.